Report: 100 Million Could Die From Climate Change By 2030
People in third world countries are disproportionately affected
Source US News: http://www.usnews.com/news/articles/2012/09/27/report-100-million-could-die-from-climate-change-by-2030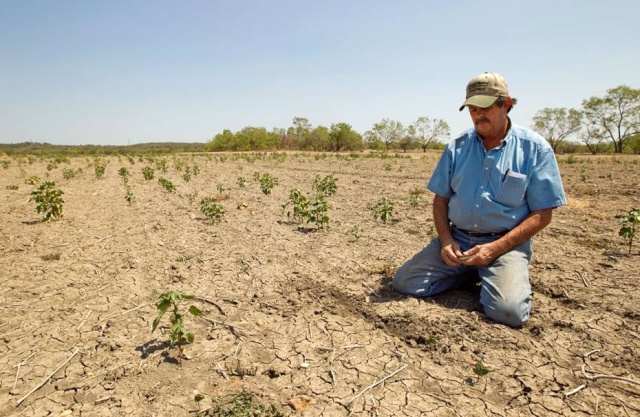 A report commissioned by the governments of more than 20 countries found that more than 100 million people will die as a result of climate change by 2030 if the world stays on its current path.
According to the second edition of the Climate Vulnerability Monitor, climate change and fossil fuel use already causes nearly 4.5 million deaths each year, and could increase to about 6 million deaths per year by 2030. The report, released by DARA, an independent, Spanish-based non-profit, suggests that time is running out for the situation to be reversed.
[Photo gallery: Extreme Winter Weather Hits Europe]
"There is still a window of opportunity, fast closing, to scale back pollution and tame the rising heat. But the world economy is locked onto a different course: fossil fuel consumption is expected to continue its rapid growth in the coming decades," according to the report. Climate change also has economic effects: According to the report, the United States could lose more than 2 percent of its GDP as it fights crop-killing droughts and water shortages.
But third-world countries are likely to remain the worst hit, as they will be forced to use already limited resources to fight disease and drought. More than 90 percent of deaths caused by climate change are expected to be in third-world countries.
"Of all these losses, it is the world's poorest communities within lower and middle-income countries that are most exposed. Losses of income among these groups is already extreme," the report says. "The pressures that these combined stresses put on affected communities are immense."
[Earth's Polar Ice Melting Less Than Thought]
The report also says more of the world's population could become vulnerable to natural disasters and other effects of climate change: 250 million people could be forced to deal with sea-level rise, 30 million will experience more extreme weather and flooding, and 5 million people will suffer desertification, the process by which fertile land becomes desert.
"The cold calculus of a hot planet is that millions of people already suffer from the failure of the world economy to embark on a low-carbon transition," they said. "Tackling climate change is already sensible in economic terms today. [Assessing the problem] will also minimize widespread illness and mortality that inaction causes."
Jason Koebler is a science and technology reporter for U.S. News & World Report. You can follow him on
Twitter
or reach him at jkoebler@usnews.com.


This map illustrates the potential for drought by 2039, based on current projections of future greenhouse gas emissions. The map uses the Palmer Drought Severity Index, which assigns positive numbers when conditions are unusually wet, and negative numbers when conditions are unusually dry. A reading of -4 or below is considered extreme drought. Blue or green regions will likely be at lower risk, while those in the red and purple spectrum could face more unusually extreme drought.
Increasingly dry conditions across much of the globe — including the U.S. — are likely over the next 30 years, a new study predicts. Moreover, by the year 2100 drought in some regions could be unprecedented in modern times.
Increasing drought has long been forecast as a consequence of warming temperatures, but the study from the National Center for Atmospheric Research projects serious impacts as soon as the 2030s. Impacts by century's end could go beyond anything in the historical record, the study suggests.
"We are facing the possibility of widespread drought in the coming decades, but this has yet to be fully recognized by both the public and the climate change research community," study author Aiguo Dai said in a statement. "If the projections in this study come even close to being realized, the consequences for society worldwide will be enormous."
To get an idea of how severe droughts might get, scientists use a measure called the Palmer Drought Severity Index, or PDSI. A positive score is wet, a negative score is dry and a score of zero is neither overly wet nor dry.
The most severe drought in recent history, in the Sahel region of western Africa in the 1970s, had a PDSI of -3 or -4.
By contrast, the study indicates that by 2100 some parts of the U.S. could see -8 to -10 PDSI, while Mediterranean areas could see drought in the -15 or -20 range.
"Historical PDSI for the last 60 years show a drying trend over southern Europe but nothing like those values at the end of this century," Dai said. "Decadal mean values of PDSI have not reached -15 to -20 levels in the past in any records over the world."
By the 2030s, the central and western U.S. could see average readings dropping to -4 to -6, the study projected.
Areas likely to experience significant drying include:


the western two-thirds of the United States;

much of Latin America, especially large parts of Mexico and Brazil;

regions bordering the Mediterranean Sea;

large parts of southwest Asia;

southeast Asia, including China and neighboring countries;

most of Africa and Australia.

While Earth is expected to get dryer overall, some areas will see a lowering of the drought risk. These include: much of northern Europe; Russia; Canada; Alaska; and some areas of the Southern Hemisphere.
That doesn't necessarily mean that agriculture will migrate from the drought areas to these places in the high latitudes, Dai wrote.
"The high-latitude land areas will experience large changes in terms of warmer temperatures and more precipitation, and thus may indeed become more habitable than today," he wrote. "However, limited sunshine, short growing season, and very cold nighttime temperature will still prevent farming over most of these high-latitude regions."
The study's findings are based on 22 computer models and the best current predictions of climate-warming greenhouse gas emissions. This could change depending on actual greenhouse emissions in the future as well as natural climate cycles such as El Nino, Dai said.
The study appears this week in the journal Wiley Interdisciplinary Reviews: Climate Change. It was supported by the National Science Foundation.

Haleakala




Posts

: 1


Join date

: 2014-07-23


Location

: Pacific Islands




---
Permissions in this forum:
You
cannot
reply to topics in this forum