Alfred Wallace - National hero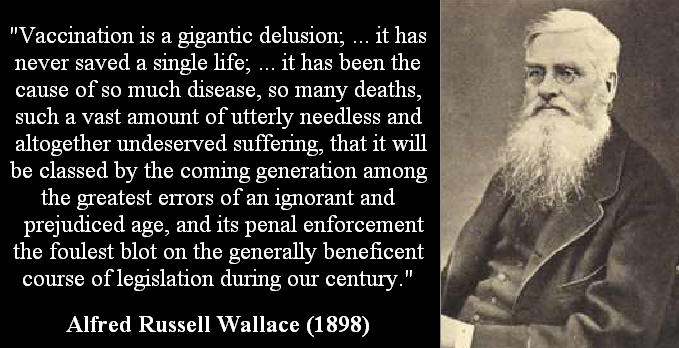 By Barbara Loe Fisher
It's that time of the year again when drug companies, doctors, government officials and media conduct a national advertising campaign to sell flu shots to every American.

1,

2,

3

You can't pass by a pharmacy,

4

enter a supermarket,

5

shop in a "big box" store

6

or catch a plane

7

without seeing the "flu shots for sale" signs trolling for customers.

The pharmaceutical industry is cutting out the M.D. middleman and going straight for the gold in places where we shop for toothpaste, clothes and food.

8

Even on the evening news, flu shot commercials are becoming as frequent as political campaign ads.

Up until the year 2000, flu shots were not recommended for everyone. Back in the 1990's, doctors were telling seniors over age 65 and younger people with chronic illness to get vaccinated.

9
No Flu Shot? No Job or Daycare!
Now, doctors at the CDC tell every man, woman and child over six months old they need an annual flu shot

10

and it is OK for health care workers to be fired if they don't get vaccinated every year.

11,

12,

13,

14

In the states of Connecticut and New Jersey, mandates are already in place that force parents to give their six-month old babies a flu vaccine or be banned from daycare.

15

This, as state health department officials join with medical trade association lobbyists in many states to severely restrict or eliminate medical, religious and conscientious belief vaccine exemptions for all children.

16,

17

The vaccine liability shield that Congress gave doctors and drug companies in 1986

18

and the public-private business partnership between government and the pharmaceutical industry that Congress created after Sept. 11, 2001,

19,

20

is paying big dividends for liability free drug companies and liability free doctors selling flu shots to more than 300 million Americans.

It doesn't matter if 80 percent of all flu-like illness is really caused by other viruses and bacteria and not influenza,

21,

22

or that flu vaccine efficacy is estimated at 60 percent to 80 percent, depending upon age and what kind of vaccine is given.

23
Selling Big Mortality Numbers to Sell Flu Vaccine
The selling of influenza vaccine has a lot to do with selling big morbidity and mortality numbers. So how bad were those numbers in the late 20th century to justify government taking a "no exceptions" cradle to the grave approach to flu shots for every American in the 21st century? Let's take a quick look at the hype versus the evidence.

The first experimental influenza vaccines were given to soldiers in World War II. It wasn't until the 1957-58 and 1968-69 influenza pandemics that the vaccine was marketed to civilians.

24

Between 1970 and 2000, the trivalent influenza vaccine containing two strains of type A influenza and one strain of type B influenza was primarily recommended for the elderly. That is because respiratory infections, especially with pneumonia complications, have always been a leading cause of death for people at the end of their life span.

25

There was only one deadly influenza pandemic in the last 100 years that killed the young and healthy in great numbers and that was the 1918 Spanish Flu. It turns out that bacterial pneumonia is what killed most people, young or old, in the 1918 pandemic. Today, antibiotics would have prevented most of those deaths.

26

But just how bad is seasonal influenza today?
Is It 200,000 Influenza Hospitalizations or 37,000?
The CDC has been telling the public for nearly a decade that there are more than 200,000 estimated hospitalizations and 36,000 estimated deaths from influenza in the U.S. every year.

27

But are those figures accurate? Well, it all depends upon use of the word "estimate." The U.S. Agency for Healthcare Research and Quality reported that, in 2004, there were about 37,000 Americans hospitalized for either influenza or another illness in addition to influenza, and patients over age 85 were twice as likely to die.

28

Now, 37,000 influenza hospitalizations is five times

less

than the 200,000 hospitalization figure the CDC uses. That is because what CDC employees did to come up with their influenza hospitalization "estimate" was to count a lot of people hospitalized between 1979 and 2001 – not just with influenza but also with pneumonia, respiratory and circulatory illnesses – which they counted as

probably

associated with influenza.

29,

30

And they got away with it.
Counting Influenza Deaths & A Whole Lot More
In 2003, CDC employees also used a convoluted statistical modeling scheme to "estimate" that 36,000 people die from influenza in the U.S. every year. Again, they counted not just influenza death cases but also threw in other respiratory, circulatory, cardiac and pulmonary deaths they thought

might

have been associated with influenza.

31

And they got away with it.

In 2005, a young PhD candidate at MIT published an article in the

British Medical Journal

and asked the question: "Are U.S. Flu Death Figures More PR Than Science?"

32

He analyzed the U.S. Vital Statistics Mortality Data, which has been carefully recorded for more than a century by the National Center for Health Statistics. I recently looked at that Vital Statistics data, too, and created a chart of influenza and pneumonia deaths recorded between 1940 and 2010.

33
Recorded Influenza Deaths Dropping in 21st Century
Here is what I found: Since 1940, the highest number of influenza deaths recorded in a single year was 21,047 deaths in 1941. In fact, the mortality rate from influenza was NOT rising in the late 20th century – as the CDC employees have alleged – it was

dropping

.

There were only between 600 and 750 influenza deaths recorded annually between 1995 and 1997.

34

The most influenza deaths recorded in a single year since 1979 was about 2,900 deaths and that was in 2009, the H1N1 swine flu pandemic year!
CDC Expanding the Flu Vaccine Market Between 2000-2010
But that didn't stop CDC policymakers, along with drug company and medical trade association lobbyists ever present at the policymaking table, from using inflated influenza hospitalization and mortality estimates to justify expanding the influenza vaccine market:



In 2000, CDC policymakers voted to expand flu shot recommendations to all healthy Americans over age 50.

35

Out of a population of 300 million, there were 1,765 recorded influenza deaths that year.

In 2002, CDC voted to add all healthy babies from six to 23 months.

36

There were 727 recorded influenza deaths that year.

In 2006, CDC voted to recommend flu shots for all healthy children up to five years old as well as all healthy pregnant women in any trimester.

37

There were 849 recorded influenza deaths that year.

In 2007, CDC voted to add all healthy children up to eight years old.

38

There were 411 recorded influenza deaths that year.

In 2008, CDC voted to recommend annual flu shots for all healthy children up to age 18 years.

39

There were 1,722 recorded influenza deaths that year.

In 2009, the Secretaries of Health and Homeland Security declared a national emergency because they said pandemic H1N1 swine flu was sweeping the country and tens of thousands of people could die. Liability free drug companies were told to rush an experimental swine flu vaccine to the market.

40



In 2010, a year when there were 494 recorded influenza deaths, the CDC officials finally reached the ultimate goal of their long game: they told doctors to give annual flu shots to every American, healthy or not, from the year of birth to the year of death.

41




And they got away with it.
CDC Does Not Require States to Report All Influenza Cases or Deaths
They got away with it because the CDC

does not require

states to "report individual seasonal flu cases or deaths of people older than 18 years of age."

42

That's right – the CDC is not actually asking for the information they need to accurately assess influenza morbidity and mortality in the U.S. It would be funny if people weren't actually losing their jobs or being denied daycare or becoming paralyzed

43,

44

by this "no exceptions" flu shot policy.
Global Flu Vaccine Market: U.S. Biggest Customer
Today, the global market for seasonal influenza vaccine is $3.6 billion and forecasters have recently reported that the U.S. is the single biggest and most profitable market in the world.

45

They say the huge U.S. market is "driven by price increases" and high vaccine coverage rates generated by the 2009 influenza pandemic and the government's "universal" flu shot recommendation in 2010. They add that "campaigning by U.S. authorities" will continue to drive up flu shot sales.
CDC: We Don't Know How Many Influenza Deaths There Are
Meanwhile, doctors at the CDC now quietly admit on their website that the "CDC does not know exactly how many people die from seasonal flu each year."

46

Having gotten that cradle to the grave flu shot recommendation firmly in place, they are backing away from the 36,000 influenza death figure. CDC now says that "only 8.5 percent of all pneumonia and influenza deaths and only 2.1 percent of all respiratory and circulatory deaths" are influenza related.

You can almost hear those liability free drug companies and doctors laughing all the way to the bank.
Protect Your Right to Informed Consent and Defend Vaccine Exemptions
With all the uncertainty surrounding the safety and efficacy of vaccines, it's critical to protect your right to make independent health choices and exercise voluntary informed consent to vaccination. It is urgent that everyone in America stand up and fight to protect and expand vaccine informed consent protections in state public health and employment laws. The best way to do this is to get personally involved with your state legislators and educating the leaders in your community.

THINK GLOBALLY, ACT LOCALLY.

National vaccine policy recommendations are made at the federal level but vaccine laws are made at the state level. It is at the state level where your action to protect your vaccine choice rights can have the greatest impact. It is critical for EVERYONE to get involved now in standing up for the legal right to make voluntary vaccine choices in America because those choices are being threatened by lobbyists representing drug companies, medical trade associations and public health officials, who are trying to persuade legislators to strip all vaccine exemptions from public health laws.

Signing up for NVIC's free Advocacy Portal at www.NVICAdvocacy.org gives you immediate, easy access to your own state legislators on your Smart Phone or computer so you can make your voice heard. You will be kept up-to-date on the latest state bills threatening your vaccine choice rights and get practical, useful information to help you become an effective vaccine choice advocate in your own community. Also, when national vaccine issues come up, you will have the up-to-date information and call to action items you need at your fingertips..

So please, as your first step, sign up for the NVIC Advocacy Portal.
Share Your Story with the Media and People You Know
If you or a family member has suffered a serious vaccine reaction, injury or death, please talk about it. If we don't share information and experiences with each other, everybody feels alone and afraid to speak up. Write a letter to the editor if you have a different perspective on a vaccine story that appears in your local newspaper. Make a call in to a radio talk show that is only presenting one side of the vaccine story.
I must be frank with you; you have to be brave because you might be strongly criticized for daring to talk about the "other side" of the vaccine story. Be prepared for it and have the courage to not back down. Only by sharing our perspective and what we know to be true about vaccination will the public conversation about vaccination open up so people are not afraid to talk about it.
We cannot allow the drug companies and medical trade associations funded by drug companies or public health officials promoting forced use of a growing list of vaccines to dominate the conversation about vaccination. The vaccine injured cannot be swept under the carpet and treated like nothing more than "statistically acceptable collateral damage" of national one-size-fits-all mandatory vaccination policies that put way too many people at risk for injury and death. We shouldn't be treating people like guinea pigs instead of human beings.
Internet Resources Where You Can Learn More
I encourage you to visit the website of the non-profit charity, the National Vaccine Information Center (NVIC), at www.NVIC.org:



NVIC Memorial for Vaccine Victims: View descriptions and photos of children and adults, who have suffered vaccine reactions, injuries and deaths. If you or your child experiences an adverse vaccine event, please consider posting and sharing your story here.

If You Vaccinate, Ask 8 Questions: Learn how to recognize vaccine reaction symptoms and prevent vaccine injuries.

Vaccine Freedom Wall: View or post descriptions of harassment and sanctions by doctors, employers, school and health officials for making independent vaccine choices.

Connect with Your Doctor or Find a New One That Will Listen and Care
If your pediatrician or doctor refuses to provide medical care to you or your child unless you agree to get vaccines you don't want, I strongly encourage you to have the courage to find another doctor. Harassment, intimidation, and refusal of medical care is becoming the modus operandi of the medical establishment in an effort to stop the change in attitude of many parents about vaccinations after they become truly educated about health and vaccination.
However, there is hope.
At least 15 percent of young doctors recently polled admit that they're starting to adopt a more individualized approach to vaccinations in direct response to the vaccine safety concerns of parents. It is good news that there is a growing number of smart young doctors, who prefer to work as partners with parents in making personalized vaccine decisions for children, including delaying vaccinations or giving children fewer vaccines on the same day or continuing to provide medical care for those families, who decline use of one or more vaccines.
So take the time to locate a doctor, who treats you with compassion and respect and is willing to work with you to do what is right for your child.


Rubber Chicken




Posts

: 1


Join date

: 2014-07-06


Location

: Madison, Wisconsin




---
Permissions in this forum:
You
cannot
reply to topics in this forum