Sea Shepherd activists have collided with Japanese ships in campaign to halt whale hunts.
Now the US Federal Courts are getting involved in Japanese affairs in International Waters! Japanese whaling interests should be labelled Eco-Terrorists for killing innocent whales and damaging the worlds ecosystem that we all need to survive. I call for an international tribunal court to convene and try the barbaric Japanese who are responsible for these heinous acts.

A
federal appeals court has declared the Sea Shepherd Conservation Society to be modern-day pirates
and ordered the anti-whaling activists to stop confronting Japanese ships in the waters off Antarctica.
Oh really? Here is Mirriam Webster definition of a Pirate: "the act of attacking and stealing from a ship at sea"And definition of an attack: "take aggressive action against (a place or enemy forces) with weapons or armed force, typically in a battle or war"I would not call stink bombs, fouling rope, and placing ones ship between vessels and innocent whales the use of weapons...
A three-judge panel of the 9th U.S. Circuit Court of Appeals reversed and rebuked a lower-court judge in Seattle, who had sided with Washington state-based Sea Shepherd and dismissed a lawsuit filed by Japanese whalers seeking to halt the protests. An international treaty allows governments to kill whales for research.
In its ruling late Monday, the appeals court also ordered U.S. District Judge Richard Jones removed from the case, saying "numerous, serious and obvious errors identified in our opinion raise doubts as to whether he will be perceived as impartial."
Sea Shepherd ships, sailing from Australia, often block or harass whaling vessels from the Institute of Cetacean Research, sometimes resulting in collisions. During the past week, two of the group's vessels were damaged while trying to prevent Japanese whaling vessels from refueling.
In the appellate court's ruling, Chief Judge Alex Kozinski wrote that the activists were threatening the lives of whalers, calling their tactics "the very embodiment of piracy."
Here's how he began the 18-page opinion:
You don't need a peg leg or an eye patch. When you ram ships; hurl glass containers of acid; drag metal-reinforced ropes in the water to damage propellers and rudders; launch smoke bombs and flares with hooks; and point high-powered lasers at other ships, you are, without a doubt, a pirate, no matter how high-minded you believe your purpose to be.
Kozinski wrote that Jones was "off base" when he concluded that the protesters' tactics were nonviolent because they did not target people, just ships and equipment.
Paul Watson, founder and president of the Sea Shepherd Conservation Society, based in Friday Harbor, Wash.(Photo: Markus Schreiber, AP)
Jones also ruled that the hunters were violating an Australian court ban and therefore could not pursue their lawsuit in the United States. The appeals court rejected that argument, saying the whalers' lawsuit could proceed in U.S. courts under international maritime law.
An attorney representing Sea Shepherd told the Associated Press he would ask an 11-judge panel of the appeals court to review the three-judge opinion.
A Sea Shepherd official told KIRO Radio on Tuesday that because the U.S. branch had separated from its Australian counterparts, the ruling had no bearing.
"What Sea Shepherd Australia is doing with Australian flagged vessels and Dutch flagged vessels down in the Australian Antarctic territory is outside of any sort of control of the courts in the United States," said Scott West, director of investigations for Sea Shepherd. "We have yet to hurt anybody, we have yet to plunder any gold or do anything that would fit within the definition" of piracy law.
Sea Shepherd Australia released video that it said showed a Japanese whaler ramming two of its ships last week.

What can you do? Organize massive letter writing campaigns to the following: http://www.seashepherd.org/whales/what-you-can-do.html

The LYING Evil Japanese call the Whaling research - then where did this Whale meat come from?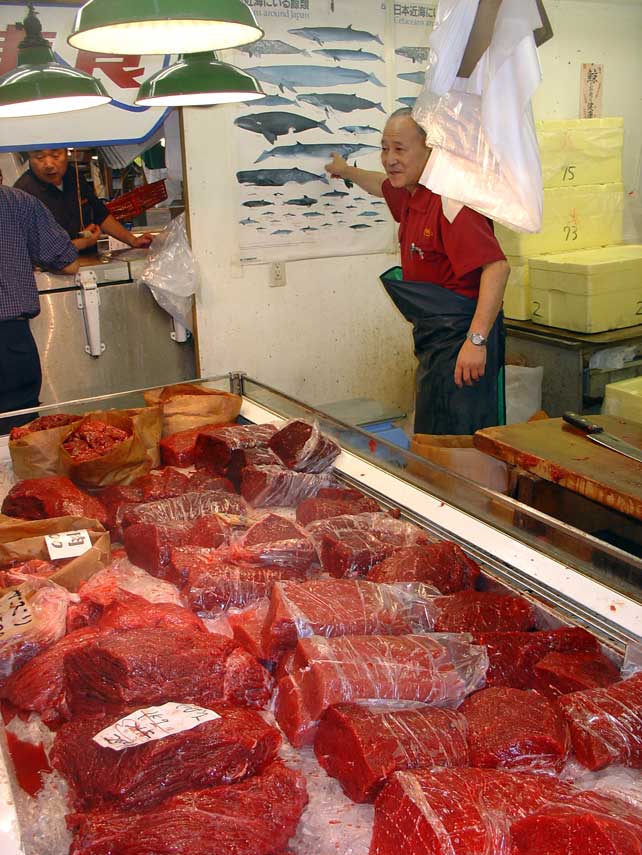 ---
Permissions in this forum:
You
cannot
reply to topics in this forum